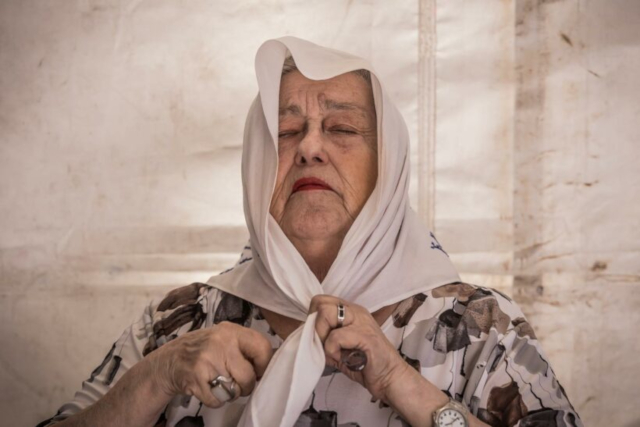 (Image by ES Fotografía (Estanislao Santos)
There are people who are models all their lives. Hebe de Bonafini is one of those who will continue to be a model for the rest of her life.
Few people symbolise in such a concrete way the unwavering and incorruptible struggle. Since the disappearance of her two sons Jorge Omar in February 1977 and Raúl Alfredo in December of the same year, as well as the disappearance of Jorge's wife, María Elena Bugnone Cepeda, in 1978, she has not ceased in her defence of human rights and the condemnation of the genocidal perpetrators of the last dictatorship, not only the military but also the civilian, judicial and ecclesiastical leaders.
Hebe presided over the Mothers of Plaza de Mayo Association, since 1979, although a sector of the Mothers split from the Association and created the Founding Line in 1986.
Known for not mincing her words and calling a spade a spade, her lack of protocol has also allowed her to open all the doors necessary for the good of her cause.
Solidary, committed, coherent and with a strength that allowed her to sustain a rhythm of work and dedication impossible for the rest of us mortals to follow. Perhaps that was the secret: immortality.
Her figure divides the waters in Argentina, for some, she was hated and detested, while for others she was a beacon that illuminates and shows us where to go. Mobilising, questioning and inspiring.
A world without Hebe is unimaginable, it makes no sense. That is why from today onwards, more than ever, we must embrace her teachings and let them illuminate our days in the face of confusion, pessimism or weakness.
---
Mariano Quiroga - Born in Buenos Aires, Argentina, in 1976, Mariano is a journalist, poet and international editor for Pressenza. His career includes publications in different countries and languages. Currently he is presenter on radio programmes in Ecuador and Argentina. A humanist communicator specialising in international politics, his vocation has led him to seek to build bridges that allow relationships to be made between data, events, people and contexts in order to create an inclusive look that synthesises the noblest searches for social justice and humanisation of the planet.
---
Original Contents by Pressenza - International News Agency
---