This text is part of the series "Migrating Rights" aimed at celebrating the 70th Anniversary of the Universal Declaration of Human Rights, all the while honouring the World Refugee Day. These contributions are elaborated under the coordination of the Inter-Thematic group on Migration (ITM) of the Centre for Social Studies of the University of Coimbra.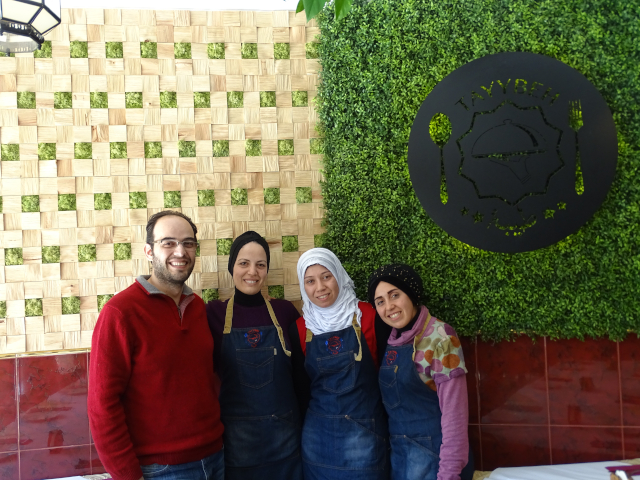 Foto: Sílvia Leiria Viegas, 2019
Leonard Cohen's "priestly blessings" for the July 30th, 2009 performance, in Lisbon, declare: "Please take care of yourselves. The weather's tricky out there, don't catch a summer cold. If you've got to fall, fall on the side of luck. This one's very difficult: Be Kind. And listen friends, may the coming year find you surrounded by family and friends, but if this is not your luck, may the blessings find you in your solitude." I missed this concert and it will not be repeated, but Cohen's inspiring songs and messages will.
As I am here, roughly ten years later, writing this contribution for the 70th celebration of The Universal Declaration of Human Rights (December 10th, 2018/2019), and emphasising the importance of the World Refugee Day (June 20th), I keep thinking of the twofold significance of the Syrian word Tayybeh, as it means kind and delicious. Therefore, my mind cross-checks Cohen's trouble of empathy with the one referring to the refugees' conditions in Europe and, in particular, in Portugal: Are we being kind? In spite of the difficulties… Do we care enough for others, or do we leave our responsibilities to chance? My following thoughts are based on a blessing, the word Tayybeh, and they reflect on how a family food project, pleasant to the taste, overcame "tricky weathers".
When I met Ramia Abdalghani and Alaa Ghunim, nearly a year ago, in Moscavide, in eastern Lisbon, they were kind enough to invite me to their home. It was during Ramadan, they offered me pistachio baklava amongst other delicious delicacies. I was starting my field work for the project INSEhRE 21, Socio-spatial and housing inclusion of refugees in Europe, and they were the first forced migrants I interviewed under this scope. It was an exploratory approach and I was very curious about their perceptions regarding the reception of refugees in Portugal, since the recent government's narratives pointed out, as they still do, to inclusionary policies and practices. In the last decade, I developed an analytical lens on urban policies and actions concerning other contexts, thus I was expecting to deconstruct these political messages from a grass-root point-of-view. In line with the information note of "migrating rights", I was focusing on the subject of migration without rights, particularly on the gains and losses of rights that are considered universal, in principle, as they are amplified, preserved or suppressed depending on the contexts of destination. We did not discuss the(ir) privation of rights in Syria.
As spontaneous refugees in Portugal since 2016, Ramia and Alaa shared their difficulties, namely concerning learning Portuguese, opportunities of employment, accessing housing, cultural tolerance, etc. similarly to many other refugees from Africa and the Middle East in analogous conditions. But – what amazed me the most was, – they had a plan, since they were determined to stay and become part of Lisbon's urban society. The core family was united, children were at school and, despite the "tricky weathers", Ramia and Alaa trusted the possibility of building (a complete form of) citizenship. They had operative solutions, not just for their process of inclusion, but also for reaching out to other Syrians in Portugal, amongst others with refugee status. As co-founder of the association Family of Refugees in Portugal, Alaa hosted various projects-to-be or in stand-by, with different purposes, e.g. Arabic Hands, FOR TV, Refugee Banking, Refugee Job Portal, Portuguese Language at Home, Language Courses, Culture Home, Support Clinic, Volunteer Dentist Clinic, etc. During the interview I was also tasting appetisers for the Family of Refugees' project of inclusion Tayybeh.
Tayybeh's catering service was launched in 2017. The main idea was to create (self-)employment opportunities to support Syrian refugee women residing in Portugal, all the while presenting middle-eastern cuisine and culture to the Portuguese society. The project sounded wonderful: inclusion through food. They had already fallen, they could only hope it to be "on the side of luck" (!). A month later, unexpectedly, I enjoyed Tayybeh's services during the event Reclaim Europe! – Urban Strategies, while referring to their work at the session about the participation of civil society in the co-construction of a common Europe. In 2018, they were caterers for the 50th celebration of the Right to the City and, at the same time, Alaa Ghunim contributed to the round table 'De-marginalization of Public Space' with his experience regarding the association. Several other events occurred with Tayybeh's assistance, as "luck" required a lot of effort to attain. Ramia and Alaa invested personal time, material and financial resources to develop this entrepreneurship so as to assure its cohesion, without any state support or insignificant external funding.
Last February, I went to the opening of the restaurant Tayybeh in Moscavide. I found a beautiful and perfectly functional space in a consolidated medium and low-income housing neighbourhood in eastern Lisbon, bordering with the expensive urban area of Parque das Nações. Although the many difficulties, Tayybeh is a fine example of emancipation. Ramia is responsible for the kitchen, while working both with Reham and Lama, two Syrian young women that arrived from Greece through the European Relocation Programme. They have been in refugee camps in Lebanon and Turkey as well. Alaa welcomes the customers with the assistance of Vitória and Ingrid, two Brazilian migrants. Business is fine, they say, regardless of being very demanding and tiring. The space reminds of Alaa's grandmother's house in Damascus as they recreated a familiar environment whilst exchanging services with other Portuguese start-ups for the decoration. Take away is a possibility and oriental cooking school is an additional service in preparation. Recent media coverage and social networks dissemination are important for its success, along with the quality of the services. The food, I corroborate, is pleasant-tasting and the environment is welcoming.
No less important is the cultural aspect of the project. They may not be Cohen, but Tayybeh's invited musicians for the inauguration and the "Nights of the Middle East" carry guests to different worlds and cultural atmospheres, all the while entertaining a very assorted audience. In those occasions, Tayybeh becomes a quasi public space of social sharing and inspiration. So much that it has been attracting the presence of several national and international government representatives who wanted to get acquainted. Given these echoes, I underline Portugal's good fortune of receiving these refugees with their insightful knowledge and ideas, without forgetting the suffering – caused by the war, the forced migrations, the endeavours, etc., – at the origin of our "luck". We must assume our responsibilities not leaving them in solitude. Therefore, I say my blessings: Thank you very much, Ramia and Alaa. Thank you for your kindness!
---
Sílvia Leiria Viegas is an FCT scholarship holder (SFRH/BPD/118022/2016 – FSE/POCH), a postdoctoral researcher with the Centre for Social Studies of the University of Coimbra (CCArq/CES-UC) and a member of the Inter-Thematic group on Migration (CES-UC) and of the Group of Socio-Territorial, Urban and Local Action Studies, of the Lisbon School of Architecture, of the Lisbon University (Gestual/FA-UL).