The "Pink Tide" governments that came to power in Latin America at the beginning of the 21st century sought to profoundly transform Latin American society. Whether inspired by socialist, social democratic, liberal, decolonial, or other ideologies, they promised to challenge the mutually reinforcing social, economic, and political inequalities that mark the region. As this wave recedes into a more heterogeneous horizon of right-, center- and left-leaning political contexts across the region, it leaves behind a highly mobilized populace and heightened tensions with current administrations on issues ranging from economic development to bodily autonomy. What lessons emerge from the Pink Tide for feminist and LGBTQ activisms? Could the Pink Tide legacy help us understand current movement politics marked, at the same time, by anti-gender efforts and populous pro-democratic protests? Our research suggests that these lessons are very relevant to today.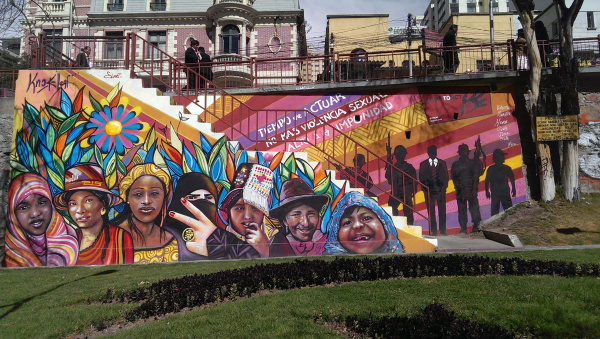 #TimeToAct Mural in La Paz, Bolivia, by artist Knorke Leaf/ ph: Shawnna Mullenax
In a recent collaborative study we conducted with 12 other scholars from South and North America, we advanced an original, intersectional, and comparative assessment of the Pink Tide's engagement with gender and sexuality. We focused on the ways in which feminist, women's, and lesbian, gay, bisexual, and transgender (LGBT) movements and demands were encountered by state actors and institutions. We centered on the often-contentious issues of social welfare, political representation, violence against women, women's bodily autonomy, and LGBT relationship and identity recognition across eight case studies – Argentina, Bolivia, Brazil, Chile, Ecuador, Nicaragua, Uruguay, and Venezuela.
As a whole, we observed that these governments made a significant difference in the lives of women and LGBT people in the region, but their reliance on traditional gendered and other relations of power and strategic trade-offs among gender and sexual rights prevented the realization of gender and sexual justice. This nuanced conclusion in many ways echoes previous experiences with left governments, pointing to the ways in which the Latin American state itself is grounded in heteronormative ideals and institutions. It thus unveils some of continuities that undergird periods of left and right governance.
First and foremost, we found significant progress under the Pink Tide. Most governments improved the basic economic conditions of poor women and their families, often through providing cash transfers. In many cases, women's representation in national legislatures advanced to some of the highest global ranks. Some countries legalized same-sex relationships and enabled their citizens to claim their own gender identity. They also opened up opportunities for feminist and queer movements, and in some cases, indigenous and Afro-Latin women's collectivities, to engage state actors and press forward their demands.
Yet, in parallel, many of these governments ignored, rejected, or sidelined some of the more transformative elements of feminist, women's, and LGBT advocates' demands. They made strategic trade-offs among gender and sexual rights, such as promoting the rights of LGBT people or women's political representation while denying reproductive health and rights for women. Growing indigenous and peasant women's mobilizations strongly linked to the defense of their territories and natural resources articulated a much-needed debate over the Pink Tide's developmental models and sustainability, and their continued reliance on economic policies of environmentally degrading extractivism.
Moreover, the Left's more general political and economic projects were profoundly, if at times unintentionally, informed by traditional understandings of gender and sexuality. As a central example across most cases, not only did poor women's unpaid care work fuel the much-celebrated social programs that reduced extreme poverty, but their unpaid community work undergirded the Left political project as a whole. This was particularly notable in the Venezuelan case, where a revolution said to have a "women's face" largely mobilized low-income women to support revolutionary transformation, rather than revolutionizing gender relations to support women.
What we learned from this collaboration is that the possibilities for gender and sexual justice seem to depend on both the organization and actions of collective actors as well as institutional contexts. One critical lesson about effective mobilization is the importance of fostering and sustaining collaborative relationships, if not outright coalitions, among individuals, groups, or movements that are rooted in both state and society that can cut across issues and institutions. Another lesson linked to this point is the need to strategically hook narration of common demands to larger frameworks of legitimation at the national level, such as upholding human rights or recognizing human diversity. The degree of state institutionalization, particularly the effectiveness of checks on executive power, is central to determining the ultimate impact of the Left on gendered and sexual relations of power. Moreover, the largely under-analyzed alliances that progressive political forces struck up with conservative religious ones to gain or hold onto power played a central role in determining the fate of policy issues – such as abortion or marriage equality – that interpellate traditional or cultural norms in Latin America. These alliances also paved the way for the growth of groups opposing gender equality and sexual rights in more recent years.
Within the heterogeneous context of today's politics, the relationships among political and religious authorities under left governance appear to continue strengthening. Indeed, insofar as right-wing nationalists and populists seek to redefine a national project as a counter to the ideals of the Pink Tide, they are deliberately targeting the beliefs and people who seek to transform fundamental inequalities, such as those based on gender, sexuality, class, race, and ethnicity. This has propelled a vast, loose network of conservative actors to mobilize against women's and LGBT rights in national and international arenas under an "anti-gender ideology" umbrella. Whether through electoral alliances, ministerial appointments or basic service delivery, they have gained influence in institutional politics, with the alleged aim of bringing back a mythical past in which nuclear heteronormative families were the "norm" and gender roles were "natural." By employing moral discourses and campaigns such as "don't mess with my kids (con mis hijos no te metas)," their preferred focus has been on some of the gains of the Pink Tide in the areas of comprehensive sexuality education, or sexual, reproductive and LGBT rights. We have seen this emerge strongly in Jair Bolsonaro's Brazil and Iván Duque's Colombia. Moreover, the impact of this conservative influence has extended to encompass a broader range of topics, including questioning violence against women, work and family conciliation policies, and challenging even public education more generally.
Simultaneously, experiences under and after the Pink Tide have led to a new generation of feminists taking to the streets, with energy and innovative strategies, to protest the lack of progress on gender-based violence or reproductive rights. And concerted actions and alliances among those who continue to seek more just and equitable societies have brought together feminists, LGBT and pro-democracy advocates in vibrant massive protests. For example, consider the broad-based coalitions and enormous mobilizations for legal abortion in Argentina and against Bolsonaro's election, or the national movement for democracy in Chile. What is notable across these coalitions is the centrality of actors, and demands, that honed their mobilizational capacity and relevance under the Pink Tide. While the anti-gender forces may be strategically intervening in states more open to their influence, gender and sexual justice has moved into the center of broader struggles over the types of societies we want to live in, the content and scope of human rights, the reach of religious authority, and ultimately, the role states should play in promoting more equitable and fair societies.
---
Elisabeth Jay Friedman is professor of politics and Latin American studies at the University of San Francisco.
Constanza Tabbush is research associate at Consejo Nacional de Investigaciones Científicas y Técnicas and the Interdisciplinary Institute of Gender Studies, University of Buenos Aires (on leave) and research specialist at UN Women.
---
Friedman edited and co-wrote the introduction of Seeking Rights from the Left: Gender, Sexuality, and the Latin American Pink Tide, published by Duke University Press and available here. Tabbush co-wrote the introduction and the chapter on Argentina.
This piece builds on an entry that first appeared in the AULA blog